Ginkgo Extract 24%flavones 6% Lactones HPLC
Ginkgo Extract 24%flavones 6% Lactones HPLC
Product details
Product attributes
Ginkgo Extract
1.Basic Information
Ginkgo biloba,also known as the ginkgo tree or the maidenhair tree, is the only living species in the division Ginkgophyta, all others being extinct. It is found in fossils dating back 270 million years. Native to China,the tree is widely cultivated and was introduced early to human history. It has various uses in traditional medicine and as a source of food. The genus name Ginkgo is regarded as a misspelling of the Japanese gin kyo, "silver apricot".
2. Specification
Ginkgo Biloba Extract
24% Flavones 6% Lactons test HPLC
3. Ginkgo Biloba benefits
Based on studies conducted in laboratories, animals, and people, ginkgo is used for the following:
Dementia and Alzheimer disease
Ginkgo is widely used in Europe for treating dementia. At first, doctors thought it helped because it improves blood flow to the brain. Now research suggests it may protect nerve cells that are damaged in Alzheimer disease. Several studies show that ginkgo has a positive effect on memory and thinking in people with Alzheimer disease or vascular dementia.
Studies suggest that ginkgo may help people with Alzheimer disease:
Improve thinking, learning, and memory (cognitive function)

Have an easier time performing daily activities

Improve social behavior

Have fewer feelings of depression
Several studies have found that ginkgo may work as well as some prescription Alzheimer disease medications to delay the symptoms of dementia. It has not been tested against all of the drugs prescribed to treat Alzheimer disease.
In 2008, a well-designed study with more than 3,000 elderly people found that ginkgo was no better than placebo in preventing dementia or Alzheimer disease.
Intermittent claudication
Because ginkgo improves blood flow, it has been studied in people with intermittent claudication, or pain caused by reduced blood flow to the legs. People with intermittent claudication have a hard time walking without feeling extreme pain. An analysis of 8 studies showed that people taking ginkgo tended to walk about 34 meters farther than those taking placebo. In fact, ginkgo has been shown to work as well as a prescription medication in improving pain-free walking distance. However, regular walking exercises work better than ginkgo in improving walking distance.
Anxiety
One preliminary study found that a special formulation of ginkgo extract called EGB 761 might help relieve anxiety. People with generalized anxiety disorder and adjustment disorder who took this specific extract had fewer anxiety symptoms than those who took placebo.
Glaucoma
One small study found that people with glaucoma who took 120 mg of ginkgo daily for 8 weeks had improvements in their vision.
Memory and thinking
Ginkgo is widely touted as a "brain herb." Some studies show that it does help improve memory in people with dementia. It is not as clear whether ginkgo helps memory in healthy people who have normal, age-related memory loss. Some studies have found slight benefits, while other studies have found no effect. Some studies have found that ginkgo helps improve memory and thinking in young and middle-aged people who are healthy. And preliminary studies suggest it may be useful in the treatment of Attention Deficit Hyperactivity Disorder (ADHD). The dose that works best seems to be 240 mg per day. Ginkgo is often added to nutrition bars, soft drinks, and fruit smoothies to boost memory and enhance mental performance, although such small amounts probably do not help.
Macular degeneration
The flavonoids found in ginkgo may help stop or reduce some problems with the retina, the back part of the eye. Macular degeneration, often called age-related macular degeneration or AMD, is an eye disease that affects the retina. The number one cause of blindness in the Unites States, AMD is a degenerative eye disease that gets worse as time goes on. Some studies suggest that ginkgo may help preserve vision in those with AMD.
Premenstrual syndrome (PMS)
Two studies with a somewhat complicated dosing schedule found that ginkgo helped reduce PMS symptoms. Women in the studies took a special extract of ginkgo beginning on day 16 of their menstrual cycle and stopped taking it after day 5 of their next cycle, then took it again on day 16.
Raynaud's phenomenon
One well-designed study found that people with Raynaud's phenomenon who took ginkgo over a 10-week period had fewer symptoms than those who took placebo. More studies are needed.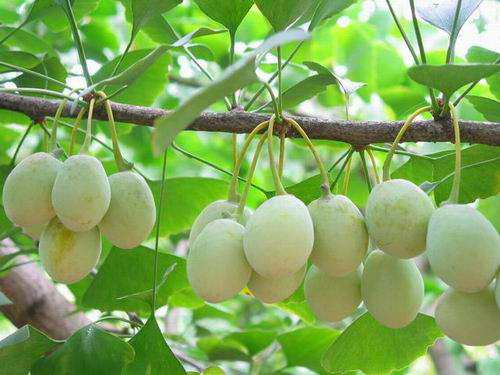 禁忌:有实邪者禁服。生食有毒。